Follow me on twitter @vjwale
Newly inducted Nigeria professional golfer, Kenneth Kwasu has made known his lifelong dream and mission to break golf Legend, Tiger Wood's world record, on the green course.
In a chat with Sportswaka.com  the golfer revealed how he became a professional golfer while asserting his plans to place Nigeria in the world map
''I give all the thanks and glory to God, it's something I have been waiting to get for five years now and it just came through in my second attempt, This is another phase of my life, so the game is going to go more than it used to be, so Nigerians should expect more than ever.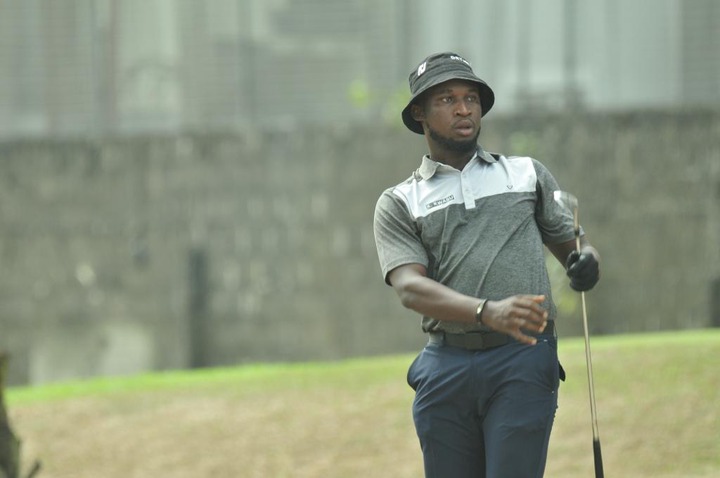 "My biggest dream is to play on the PGA Tour, European Tour, Asia Tour, and Sunshine Tour alongside the legends of the game like our Oche Andrew Odoh, and break Tiger Woods world records and move to becoming one of the top players in the world".
"So, if I put in more work, it's possible to get there. But it takes a whole lot of hard work and support. What I have to do now is to focus on progress. My game is at a point where I think I can do something good".
'' I admire Tiger Woods a lot because of his relentless effort to maintain a winning streak . The way he breaks through physical adversities every time to win trophies, it gives me so much joy every time, this man is human and was created by God so I can even do more than him.
'' However, it is important to note that a great support system goes a long way. If you keep a tab on Woods progress in the sports, mostly at the beginnings, you will realize that a lot of things that Woods has done for the game stems from his efforts and the support he got from his late father, Unlike me when I started my mother didn't believe, she stopped me from going to the golf course because she saw it as a waste of time, but right now she is no more and but this game is one of the sole reasons for my existence and survival'.
Speaking about the upcoming River Tour, he said "it is going to be interesting this time because we have a lot good players that will be competing, like I told my friend Donatus Obadifin that I am going to be on the winning mile at the end of the tour, but he told that will give me a run for my money, so it going to be a tough one but I believe am going to win that trophy".
The Port Harcourt based golf, also called for support for the development of golf in the grassroots.
"Lack of funding has been a major problem, which is a tradition in Nigeria sports, but we have been managing ourselves and God has been seeing us through, but right now we are talking to the government and the major organizations in the Niger Delta to see how they can help in developing the sports.
"Being from River state, I am conversant with the situation of things with security and the economic breakdown being witnessed in the state, business have not been in good shape but we are hopeful that things will get better".
"We want sponsors to aid us through, because people like us who have seen the game as a career don't want to be caught in the creeks scene doing all lot of funny things to make money".
Lauding the efforts of those who helped him to climb the ladder of success in the sports, through their unwavering support, he said,
"I want to appreciate those who have helped me to achieve this feat starting from Theo Taylor from Trinidad and Tobago ,he has been with me for 9years even went I failed 5years ago he urged me to fight with the words 'You Can Do It".
"Barrister I.K Allagoa, who has been like a father too so many young talents in Port Harcourt, he has been supportive to my development in the game"
"Chairman of Degema LG, Hon. Tony Philmoore PhD. Who talks golf at every point and also initiated the River Tour".
"Also Sir Emmanuel Chiejina, Barr. Charles Emordi, Adokiye Ikpoki, Late. Mrs Rose Kwasu (Mother), Des Raghoo and my lovely siblings: Esther, Siga, Kpega and also Junior Kwasu".